ShopVOX's First Custom Design for Apparel Winner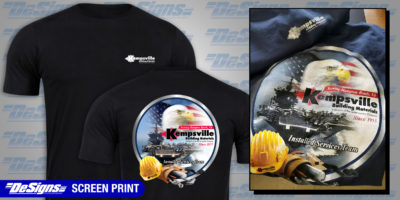 In February, we ran our first Custom Design for Apparel Contest. ShopVOX and signVOX users entered creative designs that they completed for their customers. We truly enjoyed all of the super-creative designs that were sent in! After our staff chose the finalists, the public voted for their favorite one which is live on our Facebook page.

The winning design was a custom screen print designed by DeSigns, Inc. for Kempsville Building. DeSigns Inc. is a family-owned one-stop-shop that has been serving businesses for over 30 years. They offer everything from custom signage to vehicle wraps to apparel. They have three locations in Virginia to serve you - Chesapeake, Portsmouth, and Virginia Beach.

Make sure you visit our Facebook page to congratulate DeSigns, Inc. for winning!
Each month we run a new custom design contest for our signVOX and shopVOX users. The winner receives a 50 inch TV to use to their VOX software. If you are shopVOX user, be sure to check out what this month's theme or focus will be on the #VOXcontest rules and guidelines page.