Calculating Custom Banner Discount Pricing for One Customer
Methods and tools to price custom products have evolved throughout the years. Pricing custom products is no longer a time-consuming task using outdated calculating strategies. Thanks to new technology and talented software engineers like those we have working on shopVOX, custom shops can save time and make fewer mistakes when pricing their custom products. With shopVOX, you can highly customize your pricing formulas ahead of time, so you can quickly write up quotes and sales orders and move onto the next sales call or task. Here is one example of how customizable pricing can be with shopVOX:

As a custom banner provider, you most likely have a pricing strategy that you apply to all sales of custom banners. This makes your pricing fair and consistent. However, you may have a high volume customer that wants to make a deal with your company for 10% off all future custom banner sales. ShopVOX makes it easy for you to create a custom discount for just this product for just this customer.
Once you set up the discount for this product for this customer, you never have to think about calculating it again (unless you change the pricing, of course). In addition, if another person creates a quote or order for this customer, it will automatically apply the discount.
It's super easy to set this special discount up in shopVOX:
Enable Variant Pricing
Before you set up this special discount, you need to make sure that Variant Pricing is available on this product. To enable Variant Pricing, follow these simple steps which are also illustrated in the screenshot below:
Go to the product page.

Click "Other Info" on the left-handed side.

Select the Pricing Variant Type. (for this example, select Company.)

Click "save" at the bottom of the page.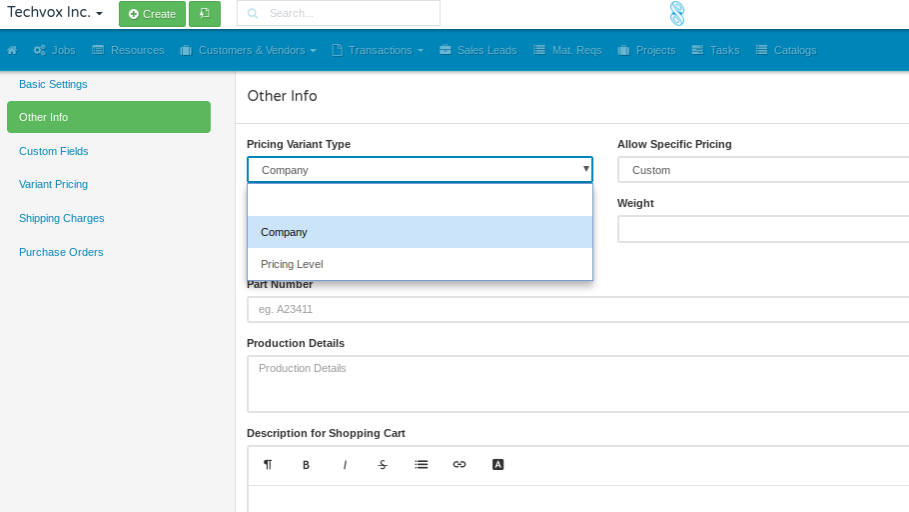 Now you are able to set up custom pricing for any customer for this product.
Set Up Custom Discount
Now that variant pricing is enabled, you can set up custom pricing for this product. Follow these simple steps:
Click "Variant Pricing" on the left of the product page.

Click the "Add New" button on the right of the page.

In the pop-up box (shown below), choose the Company from the dropdown.

Input in the appropriate box how much discount you are going to apply to future quotes and orders.

Check the box next to "Decrease".

Check the box next to "Percentage" if this discount is a percentage discount.

Click the "save" button.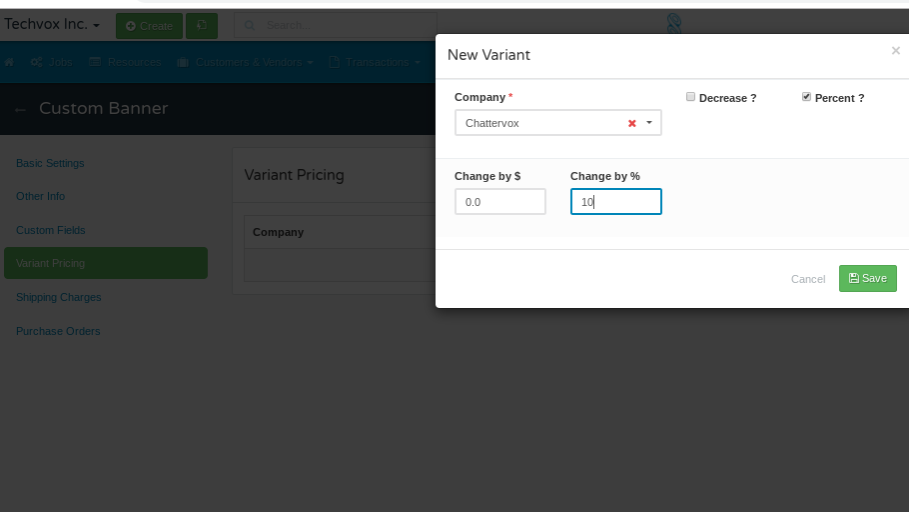 Now your custom discount is created. Whenever you price custom banners for this customer, this discount will be applied. However, if the custom orders other products, this discount will not be applied to the other products.
If you are wanting to discount all products for a specific customer, there are other settings for this type of discount.
As illustrated by this pricing discount example, shopVOX offers completely customizable pricing which also includes customizable discounting. We understand every business is unique and has unique relationships with each of its customers. This is why we designed shopVOX to be so customizable.
Once you set up these customizations, you never have to think about pricing again, unless you need to change it due to new pricing strategies, new material prices, deals, and so on. You can spend more time focusing on making new sales and improving skills.

Not a shopVOX user?
Try shopVOX Express for yourself - for FREE