Exporting ShopVOX Sales Invoices to MYOB Accounting Software
Are you using MYOB for your accounting needs? If you are, you no longer have to double input your invoices for your sign or custom manufacturing shop into both MYOB and shopVOX. You can now import shopVOX's invoices to MYOB. MYOB is a popular accounting software solution for Australian and New Zealand businesses. With MYOB, you can manage your billing, invoicing and be ready for easier tax filing. As a shopVOX user, you are now able to export the invoices that you have stored in shopVOX to MYOB via a CSV file. Simply download your invoices from shopVOX in a CSV file.
Go to your invoice page within shopVOX.

On the right upper hand corner, click Actions.

Click export to CSV file in the dropdown.

Then, upload this CSV file into MYOB.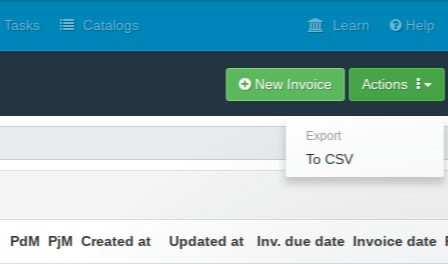 This is much easier than double entering all of your invoice data! Will save time and money!