Never Miss a Sales Lead Again!
Having a healthy sales lead pipeline is vital to the success of a business. A healthy sales lead pipeline involves excellent organization and accuracy. As a shopVOX user, you already know the power of it's project management tools and pricing tools, but you also have access to an easy to use efficient and effective sales lead tool. If you have not used this area of shopVOX, I highly recommend that you start today!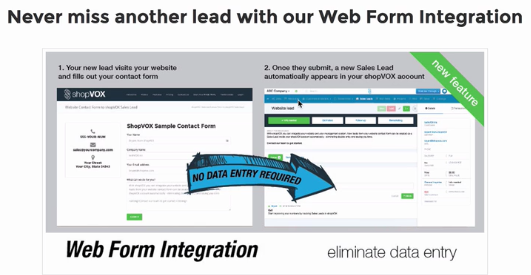 One of the best ways to attain sales leads is through lead generation on your website. Writing blogs, sharing projects, posting images of your designs and creating valuable information is a great way to have people notice your company and to visit your website. Hopefully, you have a contact form after every article and on every page of your website. Having a contact form on your site is a simple way to entice people to contact you and to learn more about your company. Each new contact is a new sales lead. However, often times, a good percentage of these sales leads from web forms become lost or pushed aside after the initial contact.This can be due to many reasons, but the biggest reason is not having a easy and efficient sales lead process. With this being the case, many of our users have asked for a way to make this process even easier for them. So, we created a new add-on feature called "Web Form Integration". With this new feature, your leads from your website contact form will be automatically transferred over to your Sales Lead funnel in your shopVOX account. Awesome. Right! No more losing leads and no more errors inputting these leads. PLUS, we customize the form for you - making your life much easier! After your leads are transferred over to your shopVOX account, your sales team can then go to work and bring in more sales. To learn more, watch this video: Web Form Integration.