Online Quote Review for Your Custom Sign and Apparel Shop
2018 is here. I hope you are ready to make this the best year for your custom shop! Whether you own a custom sign, apparel, graphics, wrap, trophy, cake decorating or another type of custom shop, ShopOX is here to help you become more successful by simplifying your processes and becoming more organized.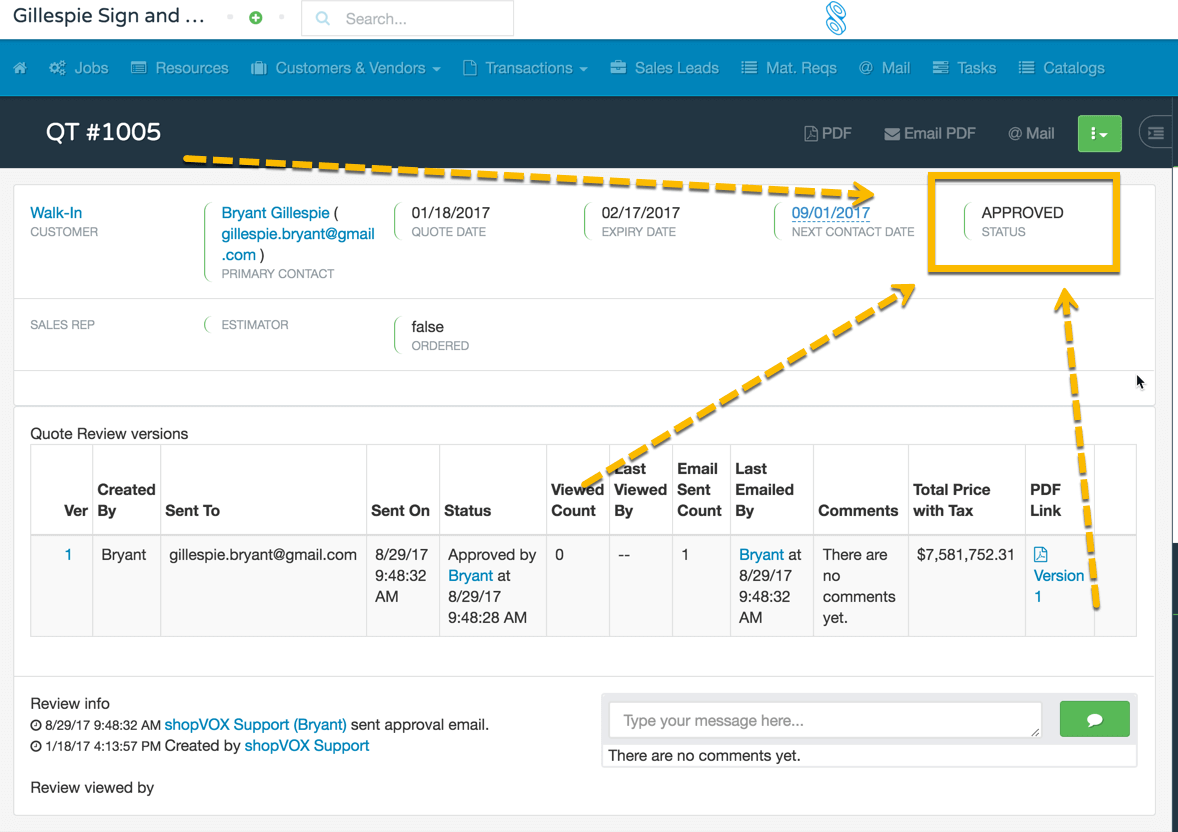 One of the best ways to allow shopVOX to really work for you is to use as many as the features as you can. The more you use shopVOX, the more organized your shop will be, the more time you will save and you will experience less headaches. To help you with this, every month in 2018, I am going to introduce to you a very helpful feature in shopVOX on this blog and on our social media. This month, I will focus on the Online Quote Review feature.We only released the Quote Review feature a few months ago at the request of our users like you. Whether you are using this feature or not, keep reading. You may discover something new or a tip that can be helpful. Why is this quote review feature so special?
Customers can approve, reject or send comments to you about the quote all online - with a click of a button. Super easy for customers!

You can easily CC any other staff member for review as well. 

You can choose different quote templates. For example, you can send a 50%, 30% or 100% deposit required template or you can send a template where the customer can choose what options he wants on his custom product. 

You can send your quote with a prepared custom email template too. This is helpful because you don't have to create the same email over and over again for every customer. 

After you send the quote, you can track the activity of the quote. This allows you to know how to follow up. Read this article for follow up tip: How to Follow Up Effectively on Quote Reviews.

Once the quote is approved, it's ready for you to convert into a new Sales Order. Convert it and email them an order confirmation (Sales Order PDF). This is special because everything is tracked in shopVOX keeping everything organized. 
If you are not using the Quote Review feature yet, note that is available at no extra cost to Pro users. This video will show you how to activate the Quote Review Feature: Quote Review - How to Activate from TechVOX Inc on Vimeo.
So, now you have an overview of this awesome Quote Review Feature, make sure you active it. Review the articles linked above, too. Then, come back next week for more tips on how to use this feature.